Skip Navigation
Website Accessibility
Instruments and Bows
Lashof Violins has a large selection of instruments to view - ranging in price from $250.00 to $12,000.00. We also have hundreds of bows ranging in price from $45.00 to $3,000.00. We sell instruments and bows which are handpicked from many makers throughout the world.
Our upgraded handmade instruments have a 100% trade-in allowance (case excluded), minus any devaluation caused by damage or needed maintenance/repairs.
Click Here to View our Full Trade-in Policy.
For our in-store customers, we offer one-week, free instrument and bow trials with no obligation to buy
(customer must present a valid driver's license and credit card as a guarantee)
. Care and safety of Instruments and Bows out on trial are the full responsibility of the customer. Please note: instrument and wood bow trials are only available to in-store customers.
The following are examples of instruments we typically carry. We specialize in having a variety of instruments to choose from, not limiting you to just a few modern "shop" brands. The instruments listed are examples of what we normally offer and may vary in availability due to our ever-changing stock. Because the majority of our customers are looking for an instrument, case, and bow, the prices listed are for the entire outfit, unless otherwise noted.
VIOLINS

Student Violins
$250.00- $350.00 Outfit
1/16 to 4/4 Used German, Chinese, Romanian, Japanese, & Czech
$350.00- $750.00 Outfit
1/16 to 4/4 new and used Leon Albert, Century Strings, Eastman Strings, Euro, Thoma, older German Violins, and more!
Handmade Instruments
We at Lashof Violins are in the business of preservation, which is why we always provide a suspension style case with our handmade violin outfits to help you offer your instrument as much protection as possible.
$650.00- $1,250.00 Outfit-- Includes Oblong Case (with suspension) and strong Brazilwood or Composite Bow


1/2 to 4/4 Century Model 320 and 420 violins
1/4 to 4/4 used older German handmade violins from the early 20th Century to modern.
1/2 - 3/4 Laschevere
1/2 - 4/4 Medio Fino by JTL c1900 French
1/4-3/4 Used Rudolph Doetsch (Stock changes frequently; Stop by to see what is available!)
1/4 - 4/4 Eastman models - 200, 305, 315
Ivan Dunov by Eastman Strings

$1,250.00- $1,850.00 Outfit-- Includes Oblong Case (with suspension) and Pernambuco or Composite Bow
3/4 French circa 1900
4/4 Albert Nebel
1/2-4/4 German circa 1850-1950
1/2 French School circa 1920- 1950
7/8 by Several Different Makers
West Coast Instrument Company
Arcos Brasil Instruments
Ivan Dunov Superior by Eastman Strings
4/4 JTL (French)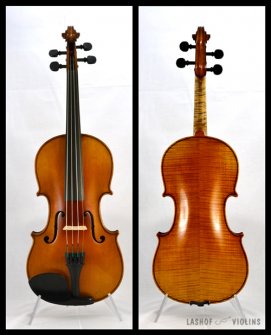 $2,000.00- $3,000.00 Outfit-- Includes Oblong Case (with suspension) and Pernambuco or Composite Bow
4/4 Rudolph Doetsch
Century Strings
West Coast Strings
Many Different European circa 1850-1950
Snow (Made in 2007)
Klier
$3,100.00 and up- a la carte pricing
David Lashof- USA
VIOLAS
Handmade Violas$1,200.00 to $10,000.00
Svetozar-Bosnian
Rudolph Doetsch
David Lashof
Eric Caldwell
Century 320s and 420s
Ivan Dunov Superior
16 3/8"; 1987 Lawrence Furse
CELLOS
Handmade Cellos$1,500.00 to $14,000.00
Rudolph Doetsch
David Lashof
7/8 Samuel Chen
Ivan Dunov Superior
Frederick Wyss
Lemmert- German circa 1920
Several Models of Eastman Strings Instruments
Several Models of Century Strings Instruments
Kohr
J.T.L.
BOWS
Click Here to Shop Our Online Selection of Composite Bows
or Stop by to Take a Wood or Composite Bow Home for a Free One-Week Trial
Bow Materials
Fiberglass

- Excellent for beginning students: plastic or wood fittings with real horse hair. $40 - 75.00

Basic Carbon Fiber

- Composite materials with ebony frogs. $90.00 and up. (Available for Online Purchase)

Graphite and Composite

- For serious students: higher quality cores, sticks, and fittings. $200 and up. (Available for Online Purchase)

Brazilwood

- usually a heavily varnished bow with nickel silver fittings and full- or half-lined frogs.$60.00 - 300.00.

Pernambuco (Nickel Fittings)

- for the advanced player or serious student; finest wood from South American province of Pernambuco. Now an endangered species. Brown to red to red-orange color with nickel silver fittings in the frog. Tongue oiled and/or French polished. $200.00 - $500.00.

Pernambuco (Pure silver, gold, tortoise shell, silver thread fittings)

- For serious students, music majors, professors, collectors and professionals: Finest bows available. $350 and up.
The Bows We CarryWe stock hundreds of bows for violin, viola, cello and bass - from $40.00 to $3,000.00. It would be impossible to list them all, listed below are some examples
One-week Instrument and Bow trials are available locally with no obligation with a valid drivers license and credit card. Care and safety of Instruments and Bows out on trial are the full responsibility of the customer. (We do not ship instruments or wood bows for trial.)
Brazilwood bows from $60 to $300
Pernambuco bows from $250 to $3000
Composite Bows: by Jon Paul, Coda, Iesta, Finkel, Cadenza, West Coast, Tabary, Glasser, and more starting from under $100.00
Lozar-Brazil-Pernambuco
K Moller Pernambuco
K Moller - Pernambuco Silver
Horst John-Brazil- Pernambuco
Swiss -silver mounted bows in 1/2 to 4/4
Lothar Seifert Pernambuco
John Norwood Lee - Mouton and Mouret
R. Dotchkail -German Pernambuco Cello Bow
Hoyer-German- Pernambuco
John Friederick
Arcos Brazil -Brazil-Pernambuco
Marco Raposa -Brazil-Pernambuco
Water Violet
Sobel - Violin - Russia
H.R. Pfretzschner
Emile Dupree- Cello
*Bows listed above are examples of bows we carry. Please call to check for availability.